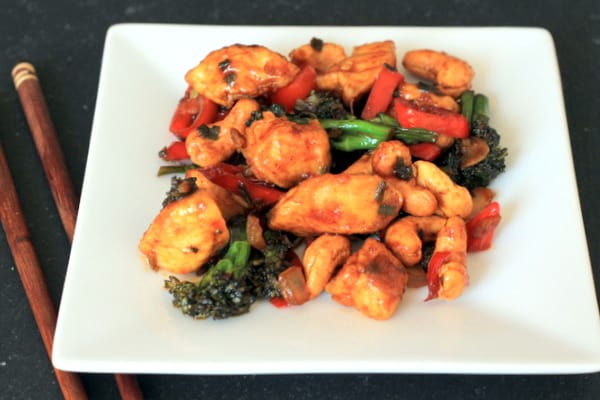 My Thai language class is a motley crew of European businessmen and retired Americans. They are all men and all came to Thailand alone. The entire group and combination of personalities provide an endless source of entertainment, but I couldn't ask for a better group to spend 4 hours with each week. This week we graduated to the second level of the school's language program – reading. In the beginning the school teaches speaking only, using latin letters to create a phonetic approximation of basic Thai vocabulary. This week our teacher presented us with a chart of the letters (all 50 plus of them) of the type that you often find in kindergarten classrooms. We practiced writing our first 6 letters along dots on a worksheet and, by the end of the class, I think our whole group had a collective headache.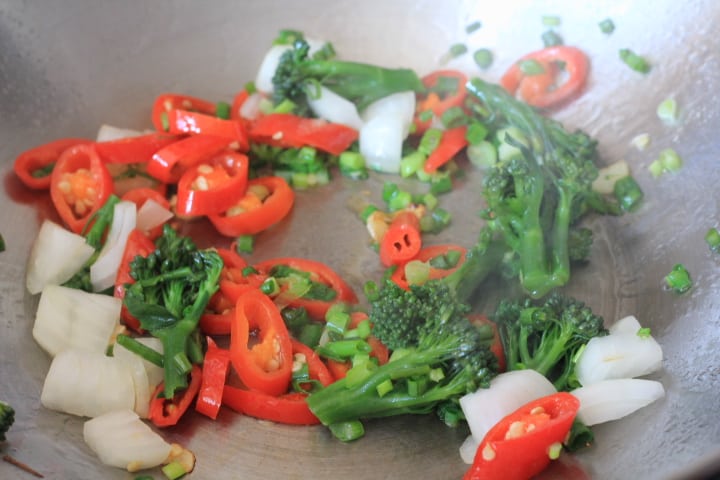 Bangkok is particularly this festive this week, as we are in the midst of Chinese New Year celebrations. Although the official celebration was yesterday, there are parades and performances in Chinatown all weekend. Frank and I are headed over there tonight to see if we can catch the tail end (haha) of the dragon in the dragon parade.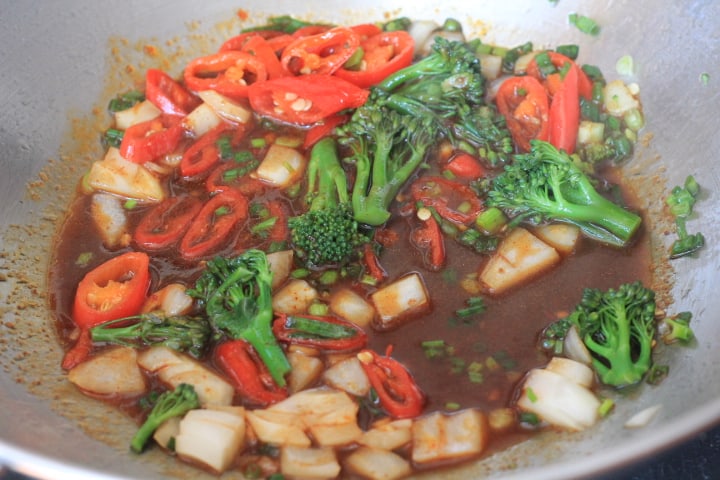 It is very common to encounter Thai dishes with Chinese influence, as a large percentage of the population in Thailand is ethnically Chinese. In honor of the lunar new year, I bring you this dish, which is what you might get if Cashew Chicken and General Tao's got together in a bowl of Thai chili paste and produced one, flavorful dish with a bit of sweetness and spice.
Because it is a holiday, and also because I felt certain that I and my fellow Thai students will need a little sugar boost in class later today, I also made a batch of these fantastic chocolate cookies from none other than Martha Stewart.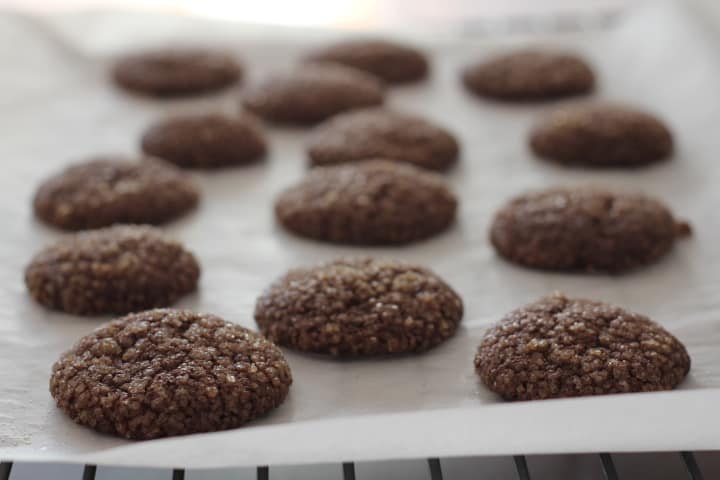 I had my teacher in mind as well, with these cookies, as I think that our distractible bunch with our inability to pronounce basic Thai tones is a true test of her abundant patience. She should certainly be rewarded with the very best chocolate cookies.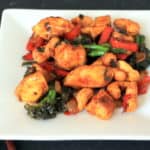 Print Recipe
Chili Cashew Chicken
Ingredients
2

cups

vegetable oil

1

cup

all purpose flour

2

tsp.

salt

1

large (or 2 small) boneless, skinless chicken breast, cut into 1 inch pieces

1

and ½ tsp. Thai Chili Paste

1

Tbsp.

soy sauce

1

tsp.

granulated sugar

1

clove

garlic, thinly sliced

½

cup

long red chilis, cut in ½ inch slices

1

cup

Chinese broccoli florets (can substitute regular broccoli, but cut the florets into bite-size pieces)

¼

cup

onion, chopped

3

Tbsp

green onion (white and yellow parts), finely sliced

¼

cup

cashews, roasted (not salted)
Instructions
Heat vegetable oil to 350 degrees in large wok. Mix together flour and salt in a small bowl. Set chicken pieces in flour, turning to coat and gently drop each piece of chicken in hot oil. Fry chicken just until coating turns golden, 2-4 minutes. Remove chicken and place on paper towels to drain and cool. Allow wok to cool and then pour oil out and wipe the inside clean with paper towels. Return wok to stovetop for making the stir fry.

In a small bowl, add 2 tsp. of water to thai chili paste, soy sauce and sugar. Stir to combine and set aside.

Heat 1 Tbsp. oil in wok over medium-high heat. Add garlic and saute until begins to turn golden, about 30 seconds. Add chilis, broccoli, onion and green onion and stir fry for 1 minute. Add liquids and cook until reduced and beginning to thicken, about 2 minutes.

When sauce is thickened and vegetables are tender, add cashews and chicken and stir to evenly coat in sauce. Cook for 1 minute longer and remove from heat. Serve immediately.
Notes
The long red chilies used in this recipe are not extremely hot, so leave the seeds intact to add a slight heat to the finished dish. If you prefer this dish without the spice, remove the seeds and membrane from the chilis before using.
Bite-Sized Chocolate Brownie Cookies
Recipe Type
:
Dessert, Cookies
Author:
Prep time:
Cook time:
Total time:
Serves:
makes about 100 bite-sized cookies
Ingredients
2 cups all-purpose flour
¾ cup cocoa powder
1 teaspoon baking soda
½ teaspoon salt
1 ¼ cups unsalted butter, softened
2 cups sugar (plus an extra 1 cup sugar for rolling cookies)
2 tsp. vanilla
2 large eggs
Instructions
Preheat oven to 350 degrees.
Combine flour, cocoa, baking soda and salt in a bowl and stir until evenly combined.
Beat butter and 2 cups sugar until light and fluffy, about 3 minutes. Add vanilla and eggs and gently mix for another minute. Add dry ingredients and mix until just combined.
Pour 1 cup sugar into a flat bottomed bowl or plate. Roll small balls of cookie dough (a heaping teaspoon is about how much you'll want to use for each) between your palms and then roll each ball in sugar to fully coat. Place rolled dough balls on a cookie sheet, leaving a couple inches of space between them.
Bake just until cookies have spread out slightly but are still moist, 7-8 minutes. Remove from the oven and cool for 5 minutes on the cookie sheet before transferring to a wire rack. (Cookies will be fragile when they come out of the oven but will remain tender after completely cooled.)
Notes
Note: These cookies freeze so well that I always make a full batch. I roll the cookies in sugar, place them on a small cookie sheet and pop them in the freezer until frozen all the way through. Then just drop the frozen cookie balls into a large ziploc bag and store in the freezer until you're ready to bake them.
adapted from "Grammy's Chocolate Cookies" , published in Martha Stewart Living, February 2000