Last week I went to see a cooking demonstration at an Italian restaurant in town. It was a fancy Italian restaurant attached to a hotel where most things on the menu are the sort that are much to complicated for me to try to make at home without a special occasion, or at least the promise of a really good bottle of wine to open (which, around here, is always a special occasion).
What I loved about the demonstration was that the chef, instead of making some very complicated, 30-ingredient recipe, made Chicken Milanese in a casual 10 minutes, all while chatting and joking with his captive audience. Something that typically strikes me as sort of run-of-the-mill (breaded chicken breast), emerged from the pan still sizzling, golden brown, and smelling like heaven.
It was so simple, and gave me renewed hope for the potential of a simple piece of chicken to shine as the highlight of a weeknight dinner.
Although I ultimately decided to save the fried, breaded chicken for another day, I thought that this recent recipe from Bon Appetit might be a welcome, similarly simple adornment for a plain old chicken breast. I could not have been happier with the outcome. The flavors were bright, rich, and herby. The tomatoes, also seasoned in the same way as the chicken became sweet and nearly caramelized in the pan - perfect for spooning over bites of the chicken.
The key element, an herbed butter made bright with sweet paprika and savory with fresh herbs and garlic was so delicious that I immediately started thinking of other ways to put it to work.
The herbed butter turns this simple, one-pan dinner into something that is absolutely worthy of serving to guests. It's so amazing that next time I make it, I may slather it on slices of fresh baguette, toast them in the oven, and call that dinner.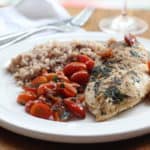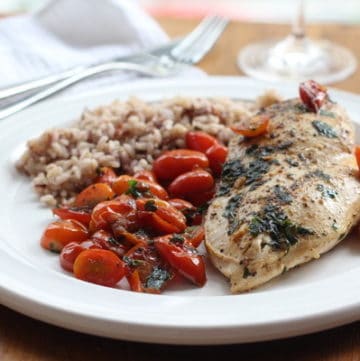 Print Recipe
Chicken with Tomato Herb Pan Sauce
Ingredients
2

tablespoons

(¼ stick) unsalted butter, room temperature

1

garlic clove, minced

1 ½

teaspoons

chopped fresh marjoram or oregano

½

teaspoon

sweet paprika

Kosher salt and freshly ground black pepper

2

skinless, boneless chicken breasts

2

cups

mixed cherry tomatoes (11-12 ounces)
Instructions
Mash butter, garlic, marjoram, and paprika in a small bowl to blend. Season marjoram butter to taste with salt and pepper.

Melt 1 tablespoon marjoram butter in a medium heavy skillet over medium heat. Season chicken with salt and pepper. Add chicken to skillet, cover, and cook until no longer pink in center, about 5 minutes per side. Transfer chicken to a plate. Tent chicken with foil to keep warm.

Increase heat to high. Add tomatoes to skillet and cook, stirring occasionally, until they begin to char and burst, about 5 minutes. Add remaining marjoram butter to skillet. Crush tomatoes slightly to release juices; stir 1 minute. Season sauce to taste with salt and pepper. Spoon tomato sauce over chicken.