Chicken Stew with Rosemary Dumplings
Published Jan 03, 2012•Updated Apr 19, 2022
Frank and I had an extra day off for New Year's weekend, so after four relaxing days at home (plus one harrowing trip to Ikea), I'm in a bit of denial that the work week starts tomorrow. In response, I've been cooking stock. It's my favorite answer to the back-to-work blues – requiring little time or attention, yet making the apartment smell like homey heaven. The stock will go straight into the freezer as what I had tucked away went into that plate of goodness that you see up top. It was one of those weekends where it paid to have something soul-warming to bring to the table on Sunday night. After all the travel and holiday parties and toasts with various cocktails, we needed something with the spirit-lifting benefits of comfort food, minus the calories. I considered it a sign that I was getting my weekly fill of poetic loveliness via Soule Mama when she mentioned the exact thing that I knew we needed on our Sunday table. Chicken and dumplings.
I had never made chicken and dumplings, but it is one of those dishes that the mere mention of makes my southern husband's eyes go wide and somewhat dreamy. I know that what he would really like is chicken pot pie, but with all the layers and butter, that one will have to wait. It is the new year, after all. Chicken and dumplings are a worthy runner-up. And this recipe is hard to beat. The dumplings are not only easy to pull together, but the dose of rosemary is fantastically fragrant and gives the entire dish an elegance one does not immediately expect from chicken and dumplings.
It's back to work tomorrow, but I've still got a few hours to relax at home, contemplate my assembly-required Ikea lamps, and breath in the aroma of homemade chicken stock.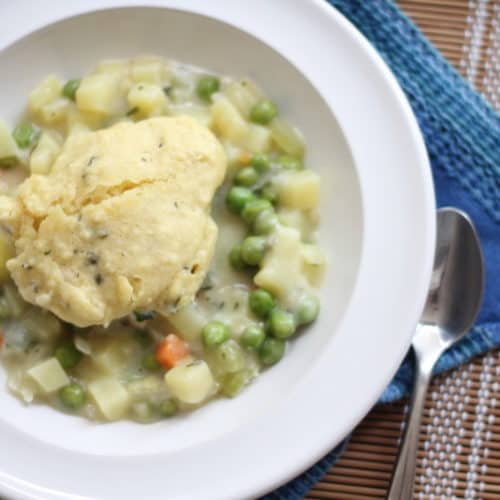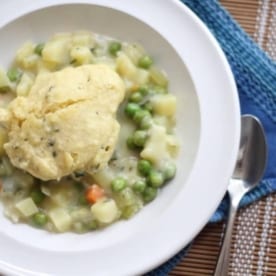 Chicken Stew with Rosemary-Parmesan Dumplings
For all its flavor, you would never guess that this is a much lighter version of a classic Chicken and Dumplings. Don't be intimidated by the "dumplings", they are not fussy and make this one of the most comforting dinners I can imagine for a chilly night.
Ingredients
for the stew:
2

Tbsp.

butter

1/2

cup

chopped onion

1/2

cup

chopped celery

1/2

cup

chopped carrot

2

cloves

garlic, minced

6

boneless, skinless chicken breast halves, cut into 1-inch pieces

1/4

cup

flour

4

cups

chicken broth

1

teaspoon

sugar

1/4

teaspoon

pepper

1

Tbsp.

chopped fresh rosemary

2

bay leaves

1/4

cup

chopped parsley

1

pound

fresh or frozen peas
for the dumplings:
2

cups

flour

1

Tbsp.

baking powder

1/2

teaspoon

salt

2

Tbsp.

hard butter, cut in several pieces

1

egg, beaten

1

Tbsp.

chopped fresh rosemary

3

Tbsp.

finely grated fresh parmesan

2/3

cup

low-fat milk
Instructions
Preheat the oven to 350°F. Heat the butter in a dutch oven on the stove over medium heat Add the onion, celery, carrot, and garlic and sauté for 5 minutes. Add the chicken and sauté until the outside of the chicken is cooked, about 3 minutes (the chicken should not be cooked all the way through, as it will finish in the oven). Sprinkle with flour and mix well. Add the broth, sugar, pepper, rosemary, bay leaves, and parsley; bring to a gentle boil, stirring constantly. Cover and bake in a 350°F oven 15 minutes.

Meanwhile, sift the flour, baking powder, and salt together. Cut in the butter until well blended. Combine the egg, rosemary, parmesan, and milk, and add all at once to the dry mixture; blend quickly with a fork, just enough to moisten.

Remove the pan from the oven and increase the oven heat to 425°F. Remove bay leaves. Bring to a boil on top of the stove. Add the peas to the stew. Shape dough with your hands into sixteen dumplings and drop onto boiling stew. Return to the oven and cook, uncovered, for 10 minutes. Cover, and cook 10 minutes longer. Serve immediately.
Notes
The picture at the top of this post is a vegetarian version I made of this dish. For the vegetarian version, I followed the recipe as written above, but substituted 4 cups of diced, peeled potato for chicken. I would recommend this recipe highly with or without the chicken.
Shared by Soule Mama, and adapted from Herb Companion.
Nutrition information is automatically calculated, so should only be used as an approximation.