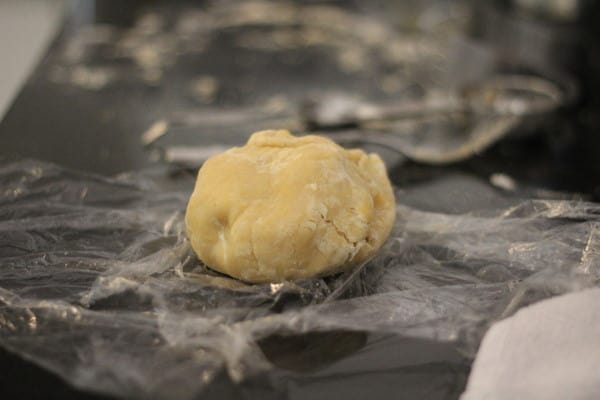 There is a strange balance between the present and the past in the "pages" of a blog. You make a recipe, photograph it, and, if you love it every bit as much as you hoped you would, your mind fills with all the things that could be said. Usually you're thoughts about the food somehow encompass the things that are happening around you – the way the food tastes, the sounds in the background, the way that things appear from that very particular vantage point at that precise instant. After years of reading food blogs, when I started writing this one, it shattered a bit of the illusion. It's so rare to be able to write about the food immediately after making it. The writing comes later. Sometimes days later, when the sense of a particularly satisfying bite of cake is a bit more foggy. Instead there you are, trying to scribble something down on a crowded train while running late for an 8:30 meeting. Not that that has happened to me or anything…ahem…moving on.
So here we are on New Year's Eve, and I missed the window for most of my holiday recipes. I made a mess of cookies this year, and plenty of stick-to-your-ribs types of holiday dinners. I took lots of pictures, and I tried a number of things that I "had" to share with you here. And yet, now the holidays are nearing an end, and it's all still waiting in draft form. Turns out, I was happy to forego the holiday food posts in the interest of a last-minute weekend getaway and precious time spent with a friend who came to stay in the week before Christmas.
With the hours winding down before the New Year, I wanted to take a minute to share one festive appetizer that requires few ingredients, very little time, and might be just the last-minute thing that someone needs for a celebration tonight. This year we did not host a single holiday party. Instead, I was spoiled by our Bangkok "family" who embraced the holiday season with the joy and energy befitting the North Pole this time of year. Our friends here in Bangkok rang in the holidays with style and some seriously good food. In truth, I barely did a thing except to luxuriate in all the great things to eat and enjoy time surrounded by good friends who behave as if we truly are one big family.
These cheese "coins" were a new holiday recipe that I stumbled across in a Martha Stewart Holiday Magazine while passing the time at the airport in Koh Samui. While it is not the most intricate of appetizers, it is one that I will be grateful to have in my holiday arsenal in the years ahead. These little savory shortbreads mix up in a matter of minutes in a food processor. They are rolled into logs and can be frozen for weeks. Finishing them requires only to defrost, slice, and bake. At the party they are served with a dollop of red pepper jelly (store-bought or homemade) on top or, if they will be sitting out for a bit, the jelly can be served on the side.
The crackers offer everything there is to love about sweet shortbread – buttery flakiness – in a savory form. They are surprising and crumbly, but perfectly sized for a pre-dinner appetizer. As for the fact that they can be made in advance and thrown together in the time it takes to heat up the oven? This fact alone makes them a winner of a holiday recipe if ever I saw one.
We are having the coziest of celebrations tonight – ringing in the New Year with a glass of champagne at home and a meal we're cooking together. Warmest wishes from Bangkok – see you in 2012.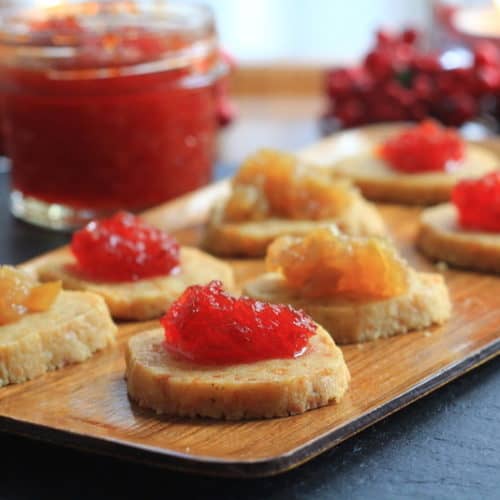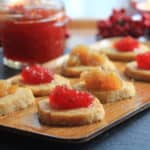 Print Recipe
Cheese Coins with Jalapeño Jelly
These cheese coins not only come together in a flash in the food processor but they can be stored in the freezer until you are ready for them. Just slice and bake. Perfect for holiday party planning!
Equipment
Food Processor

Rolling Pin

Half Sheet Pans

Parchment Paper Sheets

Cooling Rack
Ingredients
2

cups

All-Purpose Flour, plus more for rolling

1

teaspoon

Salt

1

teaspoon

Ground Paprika

½

teaspoon

Cayenne Pepper

1

cup

chilled Unsalted Butter, cut into small pieces

(2 sticks)

1

cup

grated Sharp White Cheddar Cheese

⅓

cup

Jalapeño Jelly

(store-bought or use this red pepper jelly)
Instructions
Combine flour, salt, paprika, and cayenne pepper in a food processor fitted with the metal blade; pulse to combine. Add butter; pulse until mixture resembles coarse meal. Add cheese; process until dough starts to hold together.

Turn out dough onto a lightly floured surface; knead a few times. Divide into 4 equal pieces, and roll into logs, each about 6 inches long and 1 ¼ inches in diameter. Wrap in plastic; refrigerate until firm, at least 1 hour or up to 3 days. Dough can be stored in the freezer at this point for up to 1 month.

Preheat oven to 350 degrees. Line baking sheets with Silpat baking mats. Cut dough into ⅓-inch-thick slices; place 2 inches apart onto prepared baking sheets. Bake until lightly browned, about 20 minutes. Remove from oven; let cool on baking sheet 1 minute, then transfer to a wire rack to cool completely.

When ready to serve, spoon a small amount of jelly onto center of each coin.
Notes
Adapted from MarthaStewart.com.
Print and attach the label below so cooking instructions are ready when you are!