For a week I've barely cooked a thing. It's been unusual, but relaxing. There have been a few take-out orders, one dinner of french fries and dipping sauces (Frank's request), one "dinner" that consisted of a bowl of cornflakes, and one evening where I tossed the entire contents of the refrigerator with pasta and baked it while we stayed up until 2am picking out pictures for our wedding album on
mypublisher.com
. Yes, we got married 18 months ago. No, I do not recommend waiting that long to order a wedding album. That is, unless you think you might be able to buy it at 65% off thanks to a fleeting "Cyber Tuesday" deal.
So now that my mind (and palate) are back from a restful break, I'm missing the kitchen and craving fresh foods with lots of flavor. In addition, I firmly believe that nothing cures that sense of December holiday excessiveness like broccoli. Plain broccoli doesn't go over terribly well in this house, but F and I both love broccoli when it gets a little extra love. This dish reminds me of the things I love about a good panzanella (bread salad) in the summer. There is nothing that says "summer" to me like toasty pieces of bread tossed in juicy tomatoes. This recipe captures that same magical mixture with crisp bread in flavorful dressing, but substitutes broccoli for the tomatoes and adds in a surprising, yet undeniably brilliant, combination of other elements. The raisins pop with sweetness, but it's the acidity of the vinegar-marinade that really shines.
This would be great as a side dish, but has plenty going on to for a respectable vegetarian dinner.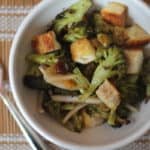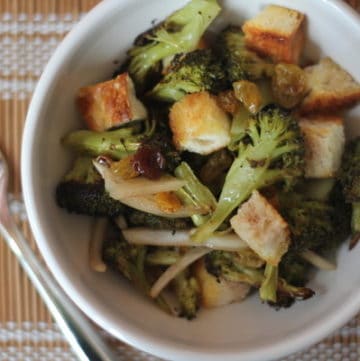 Print Recipe
Broccoli and Bread Salad with Pickled Shallots
Ingredients
2

large shallots, thinly sliced

¼

cup

golden raisins

½

cup

dry sherry

¼

cup

sherry vinegar

¼

cup

honey

1

teaspoon

chopped thyme

Kosher salt

Grated zest and juice of 1 Meyer lemon

½

cup

extra-virgin olive oil

Freshly ground pepper

4

garlic cloves, minced

2

teaspoons

crushed red pepper

2

teaspoons

chopped rosemary

1

pound

broccoli, cut into long spears, stems peeled

½

pound

ciabatta, cut into 1-inch cubes

2

tablespoons

toasted pine nuts
Instructions
Put the shallots and the raisins in 2 separate, small, heatproof bowls. In a small saucepan, combine the sherry, vinegar and agave syrup and bring to a boil. Pour 2 tablespoons of the hot mixture over the raisins; pour the rest over the shallots and add the thyme and 1 teaspoon of salt. Cover both bowls.

Preheat the oven to 400 degrees F. In a small bowl, combine the lemon zest and juice with the olive oil and season with salt and pepper. Set aside 3 tablespoons of the dressing. Add the garlic, crushed red pepper and rosemary to the remaining dressing in the bowl.

On a rimmed baking sheet, drizzle the broccoli with half of the dressing from the bowl and toss well. Season with salt and pepper. Roast the broccoli until the ends get crisp and golden brown, turning it with a spatula every 10 minutes or so, for 20-25 minutes.

Toss the remaining dressing from the bowl with the ciabatta cubes. In a skillet over medium heat, toast the ciabatta cubes until golden and crisp on all sides, about 5 minutes. Transfer to a platter and top with the roasted broccoli. Drain the raisins and shallots and scatter them over the broccoli. Garnish with the toasted pine nuts, drizzle with the reserved 3 tablespoons of dressing and serve.
Notes
I followed the original recipe exactly, with the exception of one thing. I do not have a grill, and so I roasted the broccoli and toasted the ciabatta in a skillet on the stove. It transformed what is surely an excellent summer grilling recipe into a comforting, yet punchy, winter dish. I was so thrilled with the result that I would make it this way again, even if I had a grill to use. If you are in a grilling sort of mood and have one available, click the link above for the original, grill-friendly, recipe.
Adapted from Food and Wine, June 2011.