No matter how excited I get about finding a great recipe like a citrus honey cake made with polenta or the perfect whole wheat pancakes, I still love all the experimenting that goes into discovering something new. It strikes me that there are two ends of the spectrum when it comes to cooking. On the one hand, we follow a recipe to the letter and on the other we look at a pan like a blank canvas – throwing ingredients in with abandon to see what comes out. Likely most of us have moments of each, yes?
I have neglected this space for the past week, but it's not because I've been without a wooden spoon or a sink full of dishes. I'm tempted to blame my silence on the heat. (It got so hot today that I was surprised that the whole city didn't melt before my eyes.) Frank has been out of town for work, so the silence is because I've fallen deep down the rabbit's hole of the experimental side of the cooking spectrum. I've been creating and combining and concocting new things (all in the highly air-conditioned confines of my apartment). It's the kind of freeform cooking that produces some duds for sure, but also some of my all-time favorites (Szechuan Green Beans, White Chicken Chili and Chocolate Chip Peanut Butter Cookie Cake to name a few).
So while there's a bit more experimenting to be had this week in my quiet kitchen where there's no one to question that fact that I've had three varieties of gazpacho for dinner three nights in a row, I still wanted to pass on this beauty of a recipe for which I followed the original, and couldn't have been happier with the result.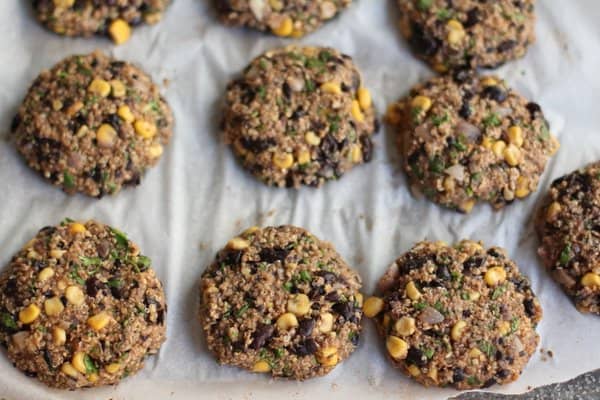 I found these black bean and quinoa burgers first thanks to the lovely ladies at Feast on the Cheap and have made them several times since. I form the patties a bit smaller than the original recipe calls for and freeze them. Thawed and baked, these are an incredibly satisfying vegetarian dinner. Frank and I have had them numerous Fridays during lent this year – vegetarian and oh-so-simple, they'll continue to be a hot weather staple.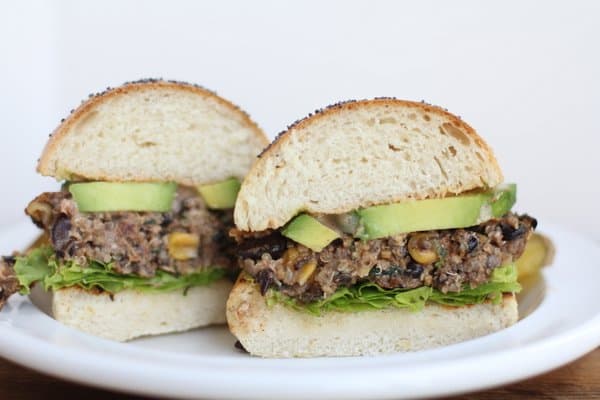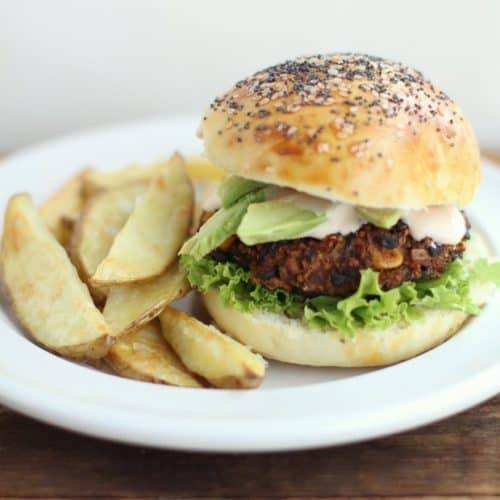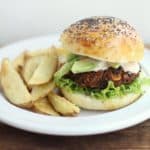 Print Recipe
Black Bean and Quinoa Veggie Burgers
Healthy, flavorful veggie burgers made with black beans, quinoa, and corn.
Ingredients
½

cup

dry quinoa

1

tsp

olive oil

1/2

red onion, chopped

3

cloves

garlic, minced

1/2

tsp

Kosher salt, divided

1

(15 oz) can black beans, drained and rinsed

2

Tbsp

tomato paste

1

large egg

2/3

cup

frozen corn

1/2

cup

cilantro, chopped

1

and 1/2 teaspoon ground cumin

1

teaspoon

chili powder

1/2

cup

rolled oats

1/4

cup

oat flour
For serving:
10

sandwich buns

lettuce

1

avocado, sliced thin

1

recipe creamy Southwestern yogurt sauce (below)
Instructions
Place the quinoa in a small saucepan with 1 cup of water. Set the saucepan over medium-high heat and bring to a boil. Reduce heat to low, cover the pan, and cook 10-15 minutes until the water is absorbed and quinoa is cooked. Remove from heat and allow to cool.

Meanwhile, heat the oil in a small pan over medium heat and add the onion and garlic. Add 1/4 teaspoon salt and sauté until onions are softened, 5-6 minutes. Place the mixture into a large bowl. Add black beans to the bowl and using a potato masher or fork, mash together until a pasty mixture forms.

Stir in the tomato paste, egg, corn, cilantro, cumin, chili powder, and remaining 1/4 teaspoon salt. Stir in the cooked quinoa, oats, and oat flour until well mixed. Form the mixture into 6 equal patties, compacting them well with your hands as you form them. Place the patties on a baking sheet, cover them with plastic wrap and refrigerate for at least a few hours or overnight.

When ready to eat, preheat the oven to 400 F or heat a griddle to medium-high heat. If baking, spray a baking sheet with nonstick cooking spray and place the patties on the sheet cook 10-12 minutes until the patties are golden brown and crispy. Carefully flip the over and cook another 10 minutes. If using a griddle, heat 4-6 minutes per side or until slightly golden.

Serve patties on buts with lettuce, avocado slices, and yogurt sauce (recipe below).
Nutrition
Serving:
1
g
|
Calories:
226
kcal
|
Carbohydrates:
40
g
|
Protein:
12
g
|
Fat:
2.6
g
|
Saturated Fat:
1
g
|
Cholesterol:
19
mg
|
Sodium:
132
mg
|
Fiber:
8
g
|
Sugar:
2
g
Creamy Southwestern Yogurt Sauce
Author:
Prep time:
Total time:
Ingredients
3/4 cup plain Greek yogurt
1/2 teaspoon ground cumin
1/2 teaspoon chili powder
juice squeezed from 1/2 small lime
pinch of salt
Instructions
Whisk together all ingredients. Refrigerate for at least 1 hour and up to 3 days.