Pear and Caramelized Onion Pizza
Published Nov 13, 2011•Updated May 24, 2022
I hope you are having a wonderful Sunday out there. We are anxiously awaiting the arrival of my sister-in-law who will be here visiting through Thanksgiving! While we wait, we are testing a new pizza and one of the easiest, and most delicious dough recipes I have tried.
Ever since I got hooked on this whole blogging thing last November, I find myself spending an increasing amount of time hunting around on the web for interesting recipes that look like they may hold enough promise to share here. And every once in a while, I realize that I am way late to the party with something that is totally the sort of thing that I would like to make. Jim Lahey's no-knead pizza dough is a perfect example. I make pizza all the time. In fact, I've been testing out all sorts of pizza dough recipes lately, in search of one that I can make my own. Unfortunately, I just haven't found it. Sure, there have been some great pizza doughs lately. You might recall this or this, both made with dough that was quite good (and particularly delicious when topped alternatively with sweet and spicy thai dipping sauce or thinly sliced potatoes and blue cheese). The problem is that I can't achieve consistency in the pizza dough recipes that I use most often. Sometimes they are wonderful with crisp edges and rich olive-oil flavor. But other times…sort of floppy and flavorless.
And here is where Jim Lahey came to the rescue. In my usual style of aimless web-searching, I stumbled across a statement that read something like "when Jim Lahey's no-knead recipe took the internet by storm in 2008". I don't know where I was when said "storm" happened, but I missed it entirely. Sure enough, a quick google search revealed that every cooking blog that existed in 2008 appears to have made this dough. Even without the web fame, I knew the recipe was promising. It was only about a year ago that (trapped inside during the great DC winter storm of 2010) I discovered Jim Lahey's no-knead bread recipe and was instantly hooked. (I was a couple years late to the party on that one as well.)
Not only is this pizza dough simple, but it takes on an intense depth of flavor after a full day of bubbling and rising at room temperature. The greatest success of any pizza dough recipe, for me, is that it should be able to be baked on its own, with nothing but a drizzle of olive oil and a few fresh herbs (maybe a grating of cheese if you have some of the good stuff…particularly if you are in Bangkok, Thailand and can point me in the direction of a halfway decent parm). This pizza dough achieves all that and more.
I think we may have a future together, me and this pizza dough. Better late than never.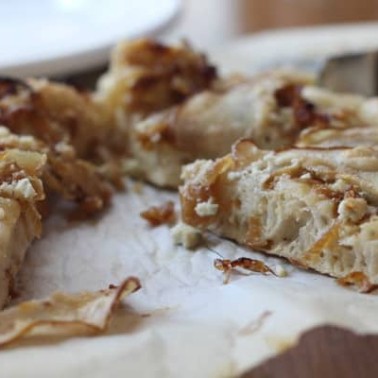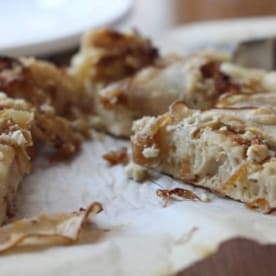 Pear, Caramelized Onion, and Gorgonzola Pizza
Ingredients
1

Tbsp.

butter

2

onions, thinly sliced

1

recipe of No-Knead Pizza Dough (below)

1

Tbsp.

olive oil

2

small pears, thinly sliced

1/2

cup

crumbled gorgonzola cheese
Instructions
Preheat the oven to 450 degrees and put a pizza stone inside. (Alternatively, the pizza can be baked on a baking sheet.)

Caramelize Onions. Melt the butter in a large pan over medium heat. Add the onions and cook slowly, over medium heat, until they become tender and golden brown, about 30 minutes. Remove from heat and set aside.

Top and bake the pizza. Divide the pizza dough into four portions and place each on a piece of parchment paper. Gently stretch the dough out into a 12 inch circle. (The dough will be very sticky – sprinkle with a little flour if needed to keep your hands from sticking. Drizzle each round of dough with olive oil. Top each evenly with the caramelized onions, pear slices, and gorgonzola cheese. Bake until the edges of the pizza become golden brown, 8-12 minutes.
Notes
The caramelized onions can be made up to three days in advance and refrigerated.
Nutrition information is automatically calculated, so should only be used as an approximation.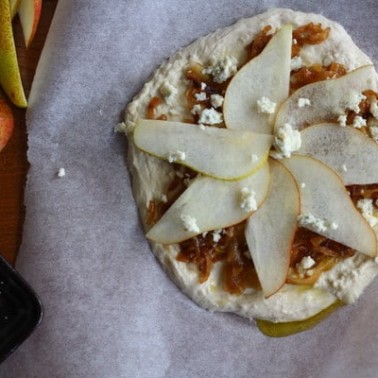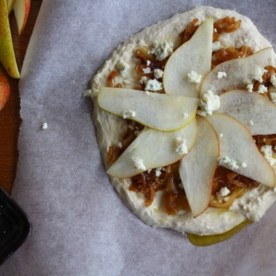 Ingredients
3

cups

all-purpose or bread flour, more for dusting

¼

teaspoon

instant yeast

1½

teaspoons

salt

1½

cups

water
Instructions
Mix the dough. In a large bowl, mix the flour with the yeast and salt. Add the water and stir until blended (the dough will be very sticky).

Cover the bowl with plastic wrap and let rest for 12 to 24 hours in a warm spot, about 70°.

Shape the dough. Place the dough on a lightly floured work surface and lightly sprinkle the top with flour. Fold the dough over on itself once or twice, cover loosely with plastic wrap and let rest for 15 minutes. Divide the dough into 4 pieces and shape each piece into a ball. Generously sprinkle a clean cotton towel with flour and cover the dough balls with it.

Let the dough rise for 2 hours.
Nutrition information is automatically calculated, so should only be used as an approximation.