Hi there. Do you remember me? I'm the guy that wrote a restaurant review a while back and then disappeared into the graduate school/twin dad vortex. It has been a long journey, but here I stand on the other side, not worse for the wear, but dare I say, better?
The new and improved me invited Jess out for a luxurious, baby-free brunch this past Sunday. We went to Rocket Coffeebar on Sukhumvit Soi 49. I have been jones'ing to try this place since I read about their cold brew coffee which, despite the prevalence of iced espresso drinks in Bangkok, is hard to find.
Rocket is a wonderful experience. The cafe is very comfortable and feels like you stepped out of the crowded Bangkok urban jungle and into a relaxed Scandinavian hipster paradise.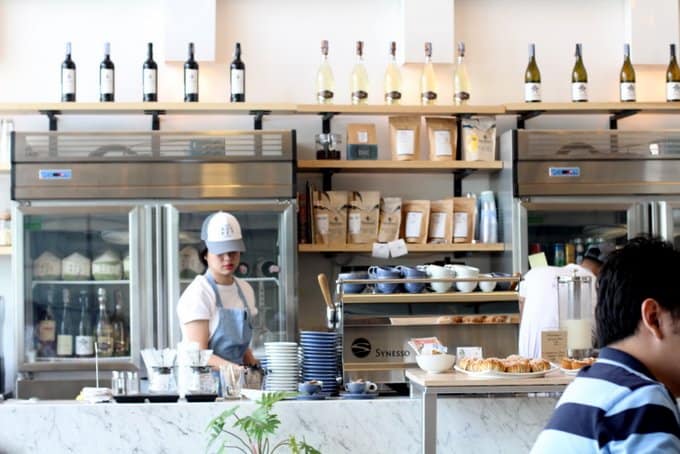 I felt like we were eating in one of those demonstration kitchens at an Ikea only we were not actually at Ikea, so I was in a much better mood than I normally am. You're welcome, Jess. We both loved the décor that shows off their baked goods and a prep area as well as a large common table and comfortable couches in a mezzanine level. The place is wonderfully bright with big windows and cool blue and white tones throughout.
I had a jumbo…er… large Rocketfuel, their signature cold brew coffee. It came in a medicine-style bottle with a small glass of ice and an orange peel.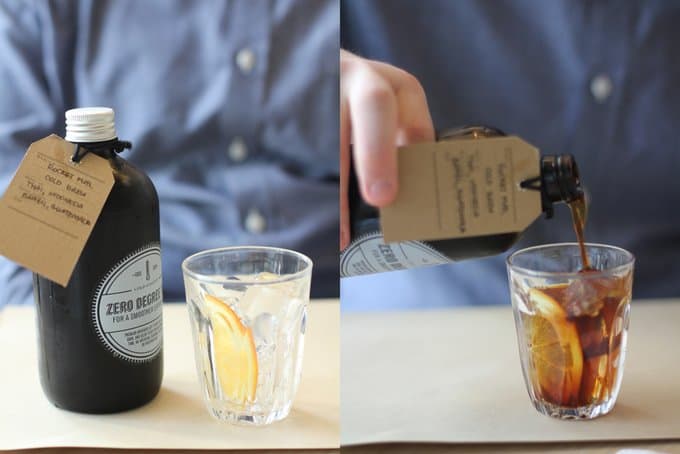 The cold brew is well done and thus the coffee presents a clean (not bitter) taste of the beans and a nice aroma. As I said to Jess during the meal, I get the orange peel. It adds a nice bright note and pairs well with the earthy coffee flavors. I get it, but after half a glass, the appeal of this wore off and I removed the peel. The last thing I will say about this cold brew is that I loved pouring it for myself out of the bottle into the small glass. Anyone that knows me, knows that I love drinking out of tiny glasses. It's just more fun for some reason. I think it all relates back to a giant Gott cooler full of jungle juice in college. Not to get off track here… Just try it sometime! Tiny glasses, that is, not jungle juice. So, I had Rocketfuel and Jess had an excellent café latte.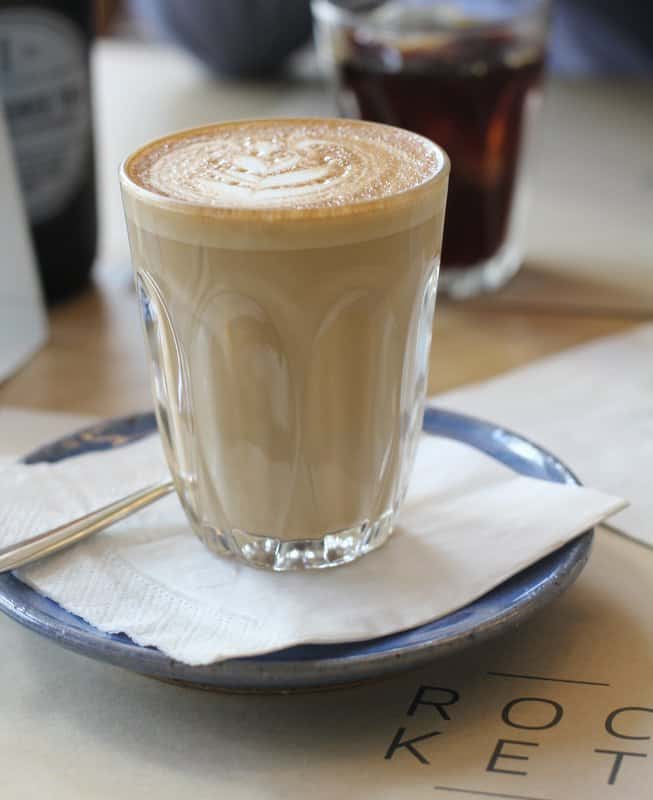 Rocket's menu is a welcome blend of great Thai produce and Scandinavian elements. I appreciated their focus on local ingredients.
I had the "The Scramble," sour cream scrambled eggs on toasted country rye with spring onion with sides of wonderfully salty and crispy prosciutto as well as purple and yellow home fries.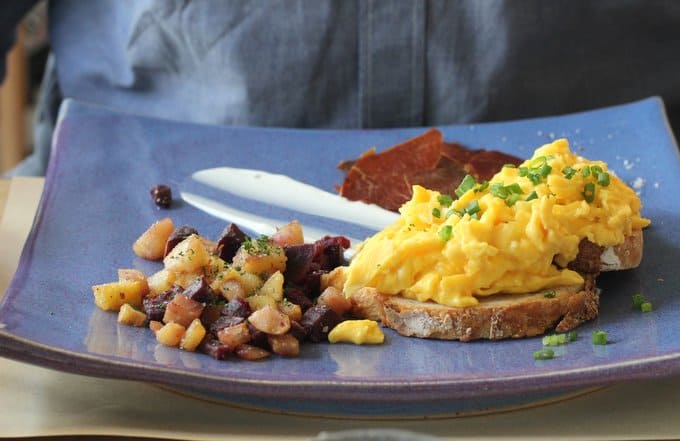 Jessica had the "Egg & Tuna," egg mixed with cooked tuna and parsley on sourdough bread.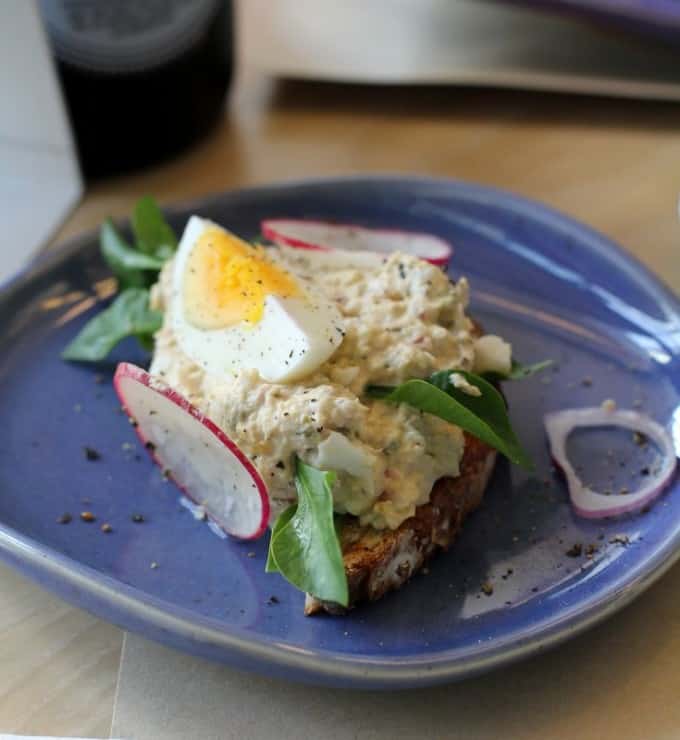 She also had a yogurt bowl with house-made granola and ripe berries.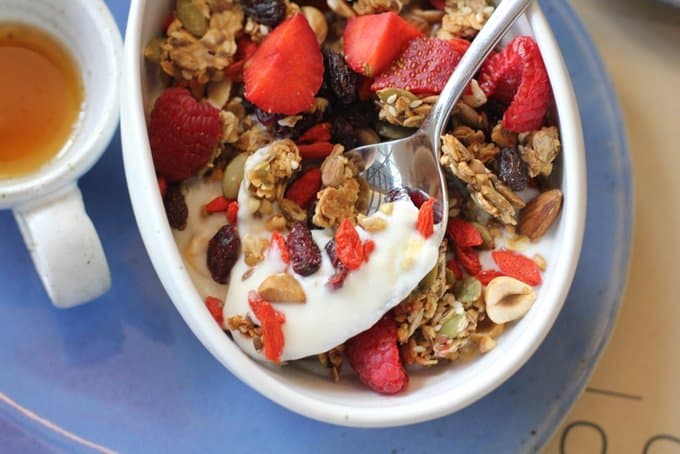 All of these items were well executed and delicious.
Of course we had to get dessert. All of the desserts look amazing and are thoughtfully out of the ordinary. We got the "Mokaya," milk chocolate mousse with caramel and chocolate sauces, caramel snow and tuile, hazelnut cake, salted almonds, and fresh orange supremes.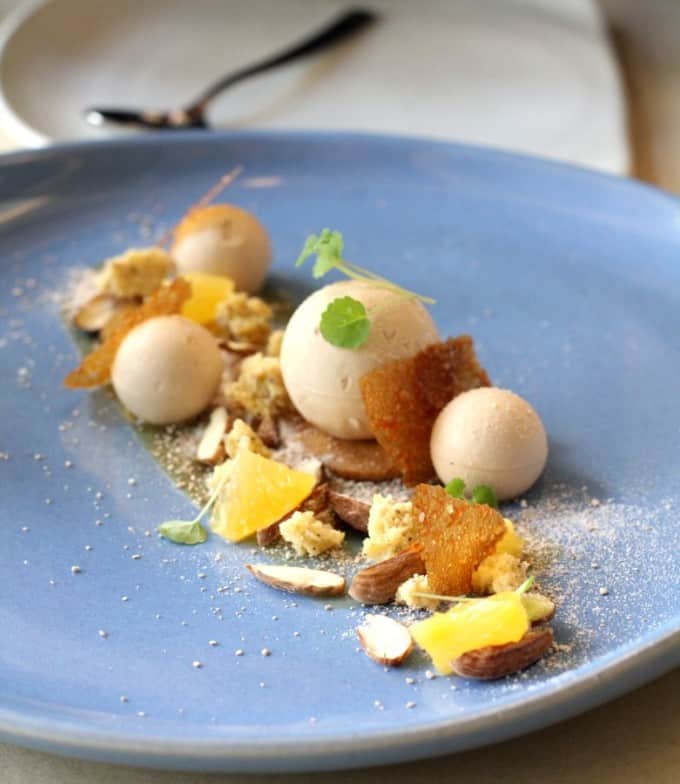 The dessert had an excellent presentation with wonderful varying combinations of flavors.
We will definitely be back to Rocket. Their pastries, particularly their cinnamon roll, which looks like some kind of elaborate cinnamon yarn ball, and sandwiches look great. I found the menu section labeled "Nordic Lights" to be particularly intriguing Swedish meatballs, a "daily hash," and grilled mackerel. This is all excellent prep for my dream trip to Lapland to see the Northern Lights. Next stop, Ice Hotel, Jessica!