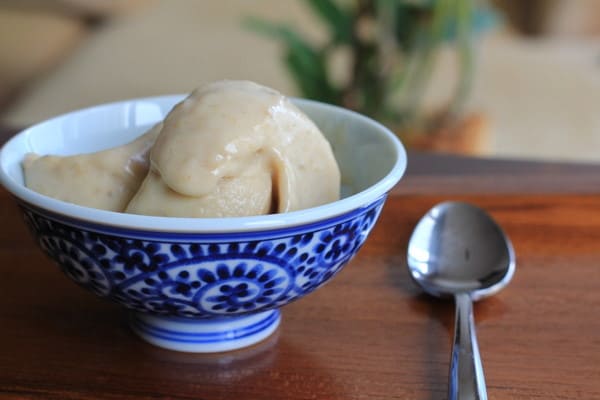 I have been falling hard for this little thing called an ice cream maker. Ever since the Jeni's Splendid Ice Creams book arrived on my doorstep, I have been looking for reasons to throw things in there and let the cold, spinning base work its magic. I knew I had to act fast and find an alternative to the addictive, rich, cream-based frozen treats that I've been getting hooked on or I (and the waist of my jeans) would be in trouble.
Fortunately, my new favorite thing is to blend up a couple of bananas and some yogurt for an afternoon treat. I toss the whole thing in the ice cream maker and send it on its buzzing, whirring way, while I try to lovingly nurture the "garden" into growing something I can actually eat, or do something really worthwhile…like shop for shoes online.
After 25 minutes in the ice cream maker, what comes out is a smooth, rich, tangy concoction. It is so satisfying, yet so light, that I wouldn't even feel a moment of guilt about topping it with a spoonful of chocolate sauce.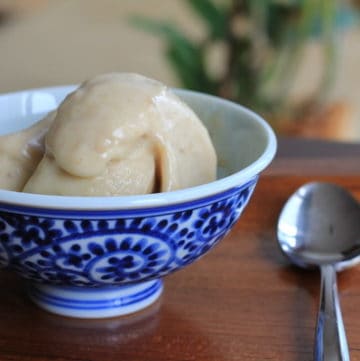 Print Recipe
Banana Frozen Yogurt
Ingredients
3

bananas, mashed (about 1 and 1/2 cups)

2

cups

vanilla or plain yogurt

3

Tablespoons

honey, optional (bananas here are very sweet, so I find that I do not need the additional sweetness even if I use plain yogurt)
Instructions
Combine the bananas, yogurt and honey in the bowl of a food processor. Pulse until smooth and creamy. Chill in the refrigerator for 1 hour. Pour into the bowl of an ice cream maker and spin according to the manufacturer's instructions until yogurt is chilled completely. (In my Cuisinart ice cream maker, this takes about 25 minutes.) Serve immediately.
Notes
This is at its best eaten right when it's finished spinning in the ice cream maker. I find that the texture changes to be less smooth and more icy after being stored in the freezer.