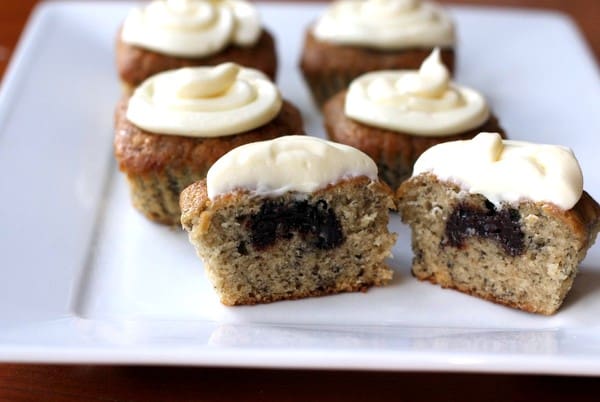 I figure that by now, you might be making good progress with your New Year's resolutions, in which case I imagine that you're about ready for a worthwhile indulgence. Or you're not ready to throw in the towel and wouldn't mind partaking in a virtual sweet treat. After all, photos don't come with calories – enjoy!
My husband has been dropping hints that he might like another batch of the chocolate banana tarts, but I wanted to try another treat I'd been dreaming up that uses the same delicious dessert flavors.
This is where a good banana bread recipe comes in. I love to use good banana bread as a substitute where more traditional cakes might go. I like the recipe below because it is moist without being overwhelmingly sweet, which means the addition of sweet ganache and cream cheese frosting doesn't result in a dessert that will make your teeth hurt with sugar overkill. This is a smaller version of a full-size cake I made for my husband back when we were just dating and I was pulling out all the stops in the kitchen.
I used to skip the sifting step in recipes. It always seemed like a waste of time. However, my friend Audra's mother makes what is, irrefutably, the best banana bread in the world. One of the secrets, Audra told me, is that you cannot skip the sifting step. And she is right. To get the light, cakey texture that makes a good banana bread so good, you absolutely must sift the dry ingredients. And really, it only takes about 30 seconds. If you sift directly onto parchment paper, you can just pull the sides of the paper together and pour the dry ingredients directly into your mixing bowl at the right time. It's absolutely worth the effort, and if you fold it very gently into the liquids, you will be rewarded with great banana bread (although never as good as Audra's mom's).
And here's where you will get a little glimpse of my MacGuyver skills in the kitchen. My muffin tins are in our sea shipment of household goods which is on a boat, along with various other cooking tools that were either too heavy or that I forgot to put in the air shipment (including my Le Crueset and knives…sigh). It's not been as much as a set-back as I originally thought. The lack of a few tools has resulted in creativity and some extra, unexpected shenanigans in the kitchen. Although my cupcakes came out either square or paisley-shaped, I imagine that you have an actual muffin tin in your kitchen.
You may recall that a couple weeks ago I wrote about a lovely fresh market delivery service from my local open air market. You may or may not have noticed that in the picture I took of all the delicious fresh produce, there were enough bananas to supply us and a small family of monkeys for at least a couple of weeks. Near the end of the week, with a half a bushel of ripe bananas still languishing on our counter, I tossed the whole bunch in to the freezer where they have been taking up an entire shelf. I found that the 1 and a half cups of mashed bananas this recipe calls for required 3 and a half large bananas. Which means that I still have enough in my freezer for another batch of it next week.
We are off to Chiang Rai this weekend for a little relaxation and to enjoy the mountains. I hear that the weather is "much" cooler up there…although "cool" is relative here. Have a wonderful weekend!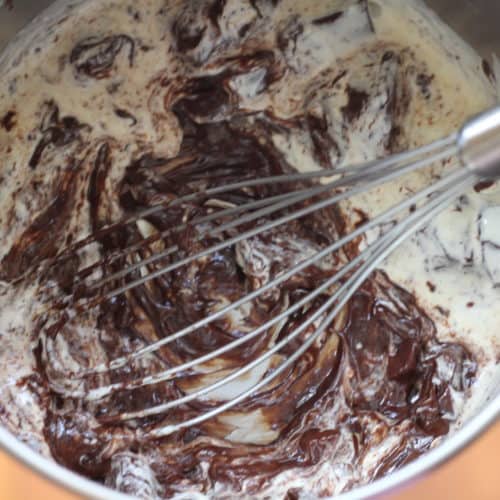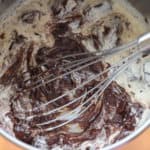 Print Recipe
Banana Bread Cupcakes
Ingredients
1

and a ½ cups, plus 1 Tbsp. (7 oz) all-purpose flour, lightly spooned into measuring cups

1

tsp.

baking soda

1/2

teaspoon

salt

2

large eggs at room temperature

1

cup

sugar

2

Tbsp.

plain Greek yogurt (or sour cream)

1

tsp.

vanilla

1/2

cup

vegetable oil

1

and ½ cups ripe bananas (3 large bananas), mashed

½

cup

(2 oz.) heavy cream

3

oz.

dark or semi-sweet chocolate (between 50%-70% cocoa), roughly chopped

For the Frosting:

6

Tbsp.

unsalted butter, softened

8

oz.

cream cheese

2

cups

powdered sugar
Instructions
Preheat oven to 350°F. Line muffin tin with paper muffin cups. (No need to grease the tin or cups before filling.)

Sift together flour, baking soda, and salt onto a plate or large piece of parchment.

Beat together eggs, sugar, yogurt and vanilla with an electric mixer at high speed mixture is thick and turns pale, 6-7 minutes. Reduce speed to low and slowly pour in oil. Add bananas and mix until fully incorporated. Fold flour mixture in by hand.

Heat cream in a small pan over medium-high heat until just begins to boil, stirring to prevent burning. Remove from heat and whisk in dark chocolate until mixture is smooth and even.

Spoon banana batter into each muffin cup to fill to roughly half full. Dollop 1 tsp. of chocolate in the middle of each cup. Top with another layer of batter (just enough to fully conceal the chocolate), leaving about 1/2 inch of space between the top of batter and the top of the muffin cups. (Alternatively, fill the cups with batter and use a pastry bag filled with the chocolate mixture to inject the center of the batter with chocolate.)

Bake until tops of cupcakes are golden brown and a tester inserted into the middle comes out free of banana bread (it certainly may contain some of the gooey chocolate though), about 30 minutes. Cool on a wire rack.

For the frosting: When cupcakes have cooled completely, beat together the butter and cream cheese until smooth. Gradually add the powdered sugar, beating well after each addition, until the mixture is smooth and stiff. Top each cupcake with a healthy does of frosting.