I've never been big on rice. I realize that in some parts of the world (including the part in which I currently live) this is beyond comprehension, but growing up in the U.S. I simply never "got it". As a kid I remember mostly thinking of it as an extraneous side dish that came with take-out Chinese food. Thailand has certainly helped me to understand that there is a lot more going on with rice than I once thought. There are sticky varieties and sweet varieties and all sorts of savory ways to prepare it. However, nothing changed my understanding of rice like our trip to Japan.
Rice in Japan can hold its own. At first I was surprised at how much I loved it. With nothing to dress it up and no rich sauce under which to hide it (as I used to do with the Chinese take-out), the rice in Japan was still fantastic. The grains are short and plump, and they are tender with a bit of a bite. I loved that they stuck together just enough that someone with such embarrassing chopstick skills as myself could scoop it up.
In Japan I had rice for breakfast topped with bits of marinated salmon and tart pickled vegetables. For lunch I had it in perfect triangles wrapped in seaweed alongside steamy bowls of fragrant miso soup. My favorite was a hidden trove of slightly sweet rice drizzled in tart, thick tempura sauce at the bottom of this bowl of fried vegetables and shrimp. We stumbled across this tempura shop on a quiet street behind the swanky shopping Ginza district. For less than ten dollars, Frank and I piled into the rows of peaceful Japanese lunchers savoring the perfectly crisp bowls of tempura.
My favorite thing about the tempura shop was that people could gather at a window outside to get their lunch to go. While waiting, the shop's cashier would serve them up steaming mugs of dark tea. On a cold winter afternoon, that's my kind of quick lunch.
To my surprise, when we came back from Japan, the first thing I wanted was rice. This has forced me to own up to my lack of rice-cooking skills. Having never given rice its due, I have spent my adult life pouring a cup of rice in a pot with water and letting it just bubble away until tender. No measuring, no skill. Frankly – I've never given my rice any love – and it shows. As tempted as I was this week to invest in the rice cookers that produce perfect rice every time, my tiny kitchen simply cannot hold one more thing.
Fortunately, I recalled a cooking show I heard once on the radio in which they talked about baking rice to gets consistent results every time. In the oven you can get a consistent cooking temperature. (Not so easy to do on the stove.) As it turns out, baking rice not only to produces the best rice I've been able to make at home, but I also find it to be the most convenient. This is the perfect way to make rice for guests, since it needs no attention – no chance of the pot bubbling over if you get distracted. Certainly, this is NOT the same type of rice I had in Japan. Japanese rice is something entirely different. But having this easy, delicious baked brown rice recipe in my pocket….well, it might contribute to making me a total rice convert.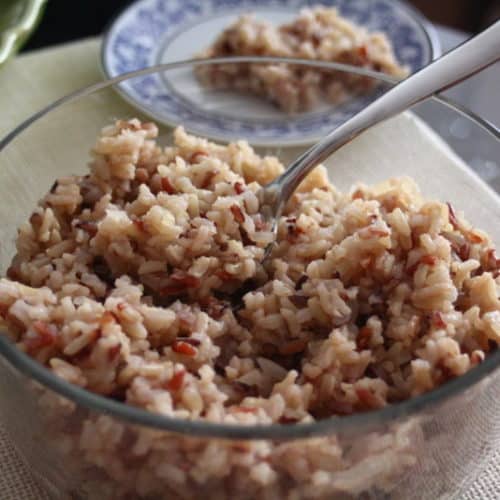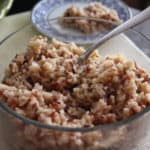 Print Recipe
Baked Brown Rice
For no-fuss, perfectly-cooked brown rice, every time, try baking it in the oven.
Ingredients
1

Tbsp.

unsalted butter

½

onion, finely chopped (about ½ cup)

1 ½

cups

brown rice, medium or short grain

2 ½

cups

water or broth, heated until boiling

Salt, to taste
Instructions
Preheat the oven to 375 degrees F.

Heat the butter in a saucepan over medium heat. Add the onions and cook, stirring, until the onions just begin to turn translucent. Add the rice and stir to combine. Pour the rice into an 8-inch square baking dish.

Pour the hot water or broth evenly over the rice. Cover the dish tightly with heavy-duty aluminum foil. Bake on the middle rack of the oven until the grains are tender and plump, 1 hour.

After 1 hour, remove cover and fluff the rice with a fork. Add salt, to taste. Serve immediately.