There are a variety of tour companies offering easy ways to get to Thailand's old capital city, Ayutthaya (pronounced "eye-you-tee-uh"), from Bangkok in a day. We opted for the Grand Pearl River Cruise company which offered a trip up to Ayutthaya by bus, visits to a few sites, and a lunch river cruise back down to Bangkok. All along the way, we had an English-speaking tour guide to explain the history of the locations we visited. This tour company did a good job, but there are many others that can easily be found by searching on the web that may offer a timeline or feature certain sites that are more to your liking.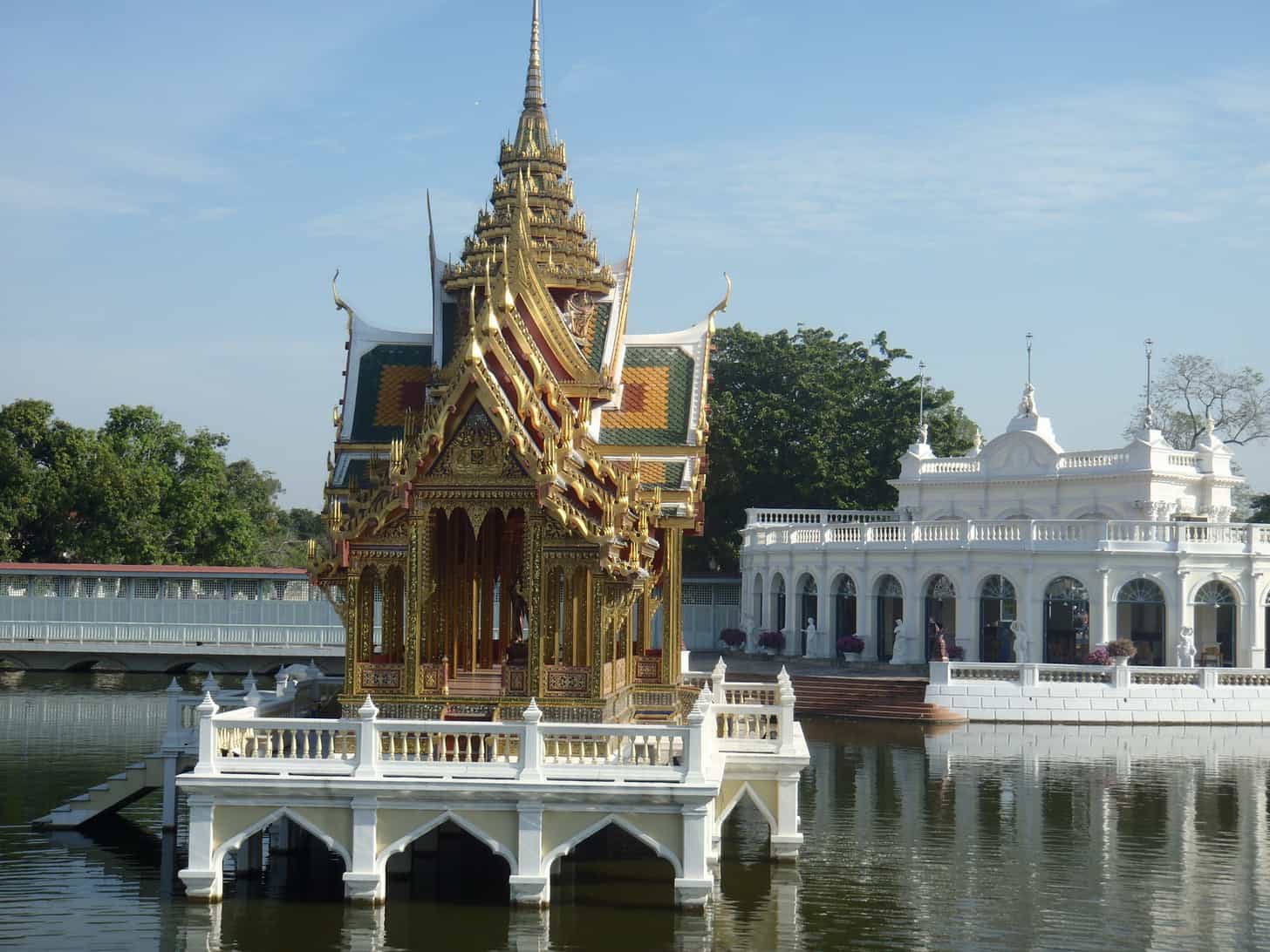 Our first stop was the Bang Pa-In Summer Palace, built in the 17th century as a summertime getaway for Thai royalty. The grounds were beautiful and the buildings interesting to see as the architecture was inspired not just by Thailand, but also by Switzerland and China. To me, Bang Pa-In was not nearly as interesting to me as the other spots we visited on the day trip but it does give an interesting and unique perspective on the history of the Thai royal family.
The tour then took us to the city of Ayuttaya to see the ruins of two different temples (from the 14th and 16th centuries) which were beautiful and mysterious in the way that ruins tend to be.
Below is Wat Phrasrisanphet, built in the 14th century. The first photo is one that seems to be in virtually every Thailand travel book that we own. Most of the grounds are home to statues of Buddha that were destroyed centuries ago and have since been slowly pieced back together as part of the restoration of the site.
And here is the second temple site was Wat Chai Wattanaram, built in 1630. I found it incredibly valuable to have a guide on the visits to these temples, as it would otherwise be difficult to imagine the structures that once sat on the land, but are now reduced to piles of bricks.

The sense of history that the sites provide a visitor to Thailand is unique at the sites of these temples.
Although our tour ended after seeing Wat Chai Wattanaram (as we then caught lunch on a boat headed back into Bangkok), Ayutthaya is an ancient city that sits in the split of a river. The city itself looked like it would be worth another visit to get a feel for its current state in addition to the historical sites that exist just outside of it.
For more information:
www.bangkok.com/river-cruise-tours/
This site provides links to a number of different river cruise options leaving from Bangkok.