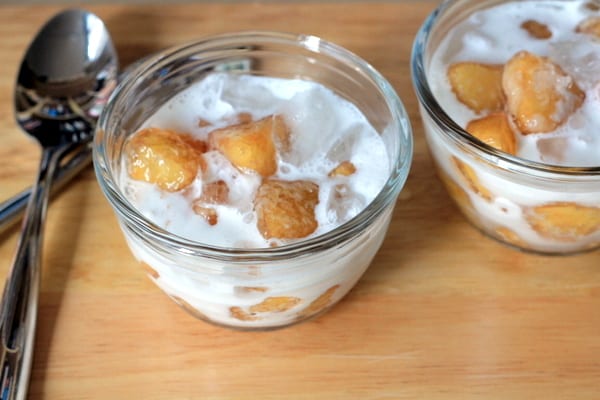 I've had a bit of a rocky relationship with this popular Thai dessert. The first time I had it when we had just arrived in Thailand, I wasn't sure if I really loved it or if it was one of those things I only needed to have once. Over the past few months, I've had it many more times and made it in cooking classes, and I'm quickly getting hooked. Although the flavor is light and sweet, I think that it is popular largely for its unusual texture.
When I tried to make this at home, I again ran into problems. The first time I made it, I produced a giant, tapioca blob that had to be pried out of the pan, directly into the trash. This was entirely my own fault as I used the smallest possible pot in an effort to keep the dishes to a minimum. Unfortunately, these little "rubies" need space to move, so as much as you may want to cut back on the dishes, I can tell you from experience that it's not advisable to boil them in a pot barely large enough to hold them all.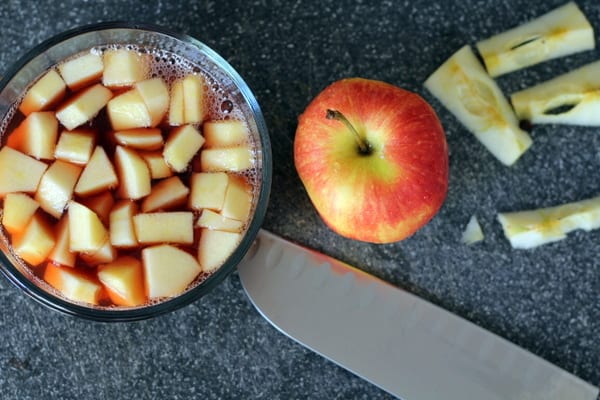 I also realized, in all my sampling of this dessert, that there was one element that I just simply could not learn to love. Traditionally the rubies are made with water chestnuts. Water chestnuts have a nice crunch but absolutely no flavor. And so…I use apples. Apples absorb the color and flavor of the juice, and bring a nice flavor to the dessert. You would NEVER find apples used in this dessert in Thailand, so this is a total Inquiring Chef adaptation.
After the rubies have finished boiling, the coating around them will become transparent. And, as long as you don't make the same mistake as I did the first time around by boiling them in a tiny pot, they will come out in separate, gelatin-coated pieces.
To add the distinctive layers of texture to this dessert, it is always topped with coconut milk and roughly chopped ice. Each bite is all at once crunchy, creamy, chewy, cold… almost impossible to describe. If you've never had it, it's definitely something to experience for yourself.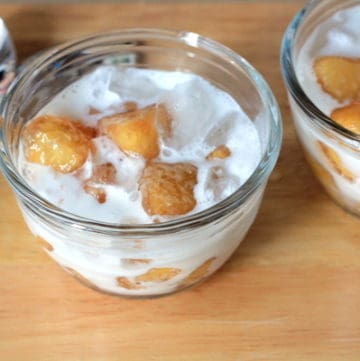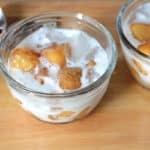 Print Recipe
Apple Rubies in Coconut Milk
Ingredients
2

crisp apples, cored, peeled and cut into 1/2 pieces (McIntosh, Pink Lady, Gala as well as any other crisp type would work well)

2

cups

red juice (I used pomegranate)

1

cup

tapioca flour

1/2

cup

granulated sugar

1

tsp.

salt

2

cups

coconut milk

crushed ice, for topping
Instructions
Combine the apples and juice in a small bowl, insuring that the apples are covered by the juice. Allow to soak for 20 minutes.

While the apples soak, bring a large pot of water to a boil. Set a medium bowl of ice water next to the stove to use as an ice water bath.

Combine tapioca flour, sugar and salt in a large bowl. Drain the juice off the apples and pour apples into tapioca mixture, tossing to evenly coat the pieces. Shake off the excess tapioca mixture and gently drop the coated apples into boiling water. Allow to boil until coating becomes transparent, about 5 minutes. Remove from the boiling water and quickly dunk in ice water bath.

Drain the apples and divide into four small serving bowls. Pour 1/2 cup of coconut milk into each bowl. Top each with crushed ice. Serve immediately.