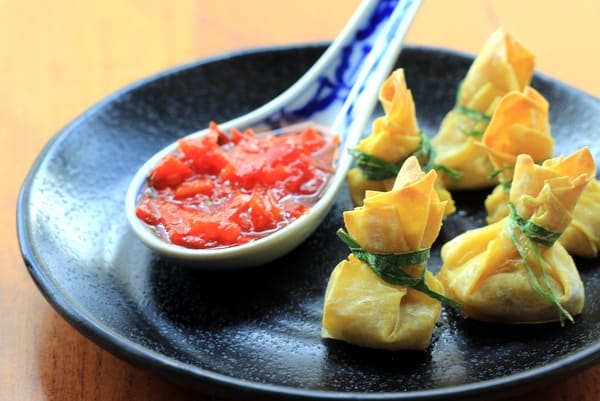 Thai Golden Bags (or purses), "thung tong", are delicate little wrappers filled with a combination of meat and herbs. There are countless variations on the filling, but they are always deep fried…except for in my kitchen. I love them, but deep-frying in my home kitchen often strikes me as too much of an undertaking. Therefore, I've taken a little liberty with this recipe, and a bit of inspiration from the baked crab rangoon, and came up with the following that will give you an incredibly close approximation of the traditional snack, without the fuss of heating a huge pot of oil. The won ton wrappers crisp up beautifully in the oven, and these have all the same fabulous flavors as the real deal.
You will notice that there are two batches of the golden bags photographed for this post. In trying to get the filling just right, I made a version with square won ton wrappers and a version with small, round spring roll wrappers.
In the picture up top, using the square wrappers, I practiced tying the bags with chives. I made these later without the tying, which saved a lot of time. They weren't quite as eye-catching without the chive (or as authentic), but they worked just fine. I did find that if I skipped the tying step, it was a good idea to bake these in a mini muffin tin to help them stay together.
And just to show you how invaluable it is to learn to do these things under the careful guidance of a real chef, here's a little shot of the Blue Elephant Cooking School's variation on golden bags, which were made and tied by yours truly during a class. The real mystery here is – how was I able to make these so pretty in the confines of the classroom, but incapable of recreating them in my own kitchen? Rest assured that, although the ones I made today were not nearly as pretty, they tasted just as good.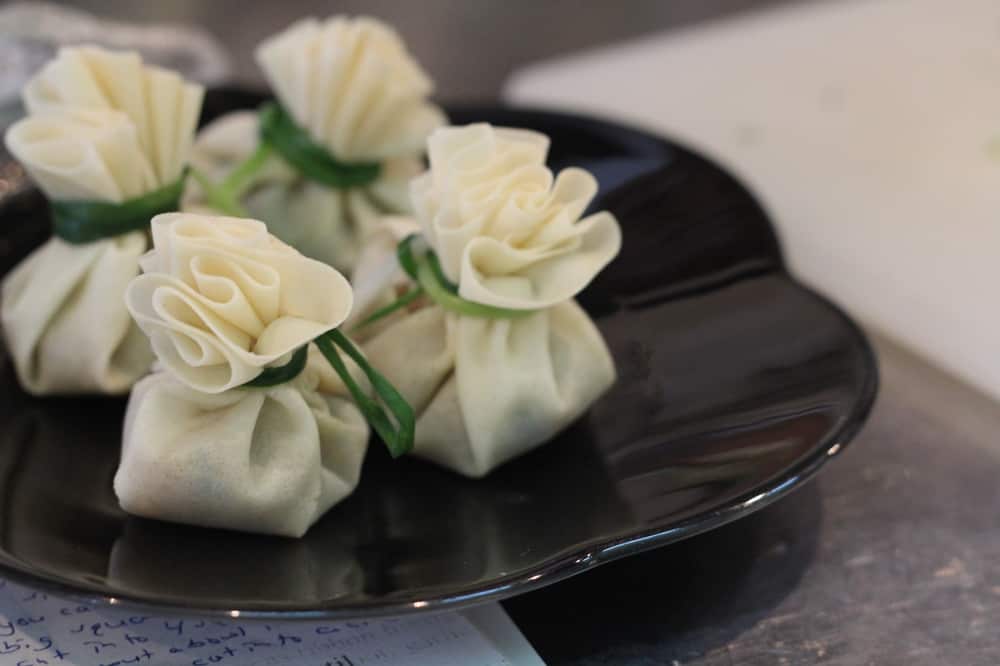 These are delicious with the slightly more complex pineapple dipping sauce provided here, but below is a much easier sauce with the same satisfying spicy, sweet, sour combination.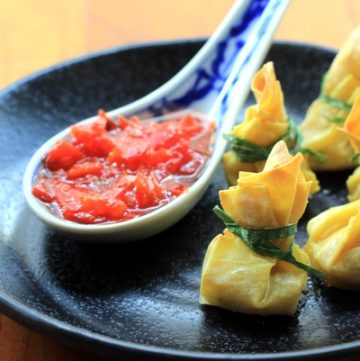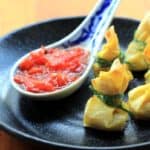 Print Recipe
Thai Golden Bags - Thung Tong
Ingredients
8

oz

boneless, skinless chicken breast

6

large shrimp, peeled, de-veined, tails removed

1

clove

garlic

¼

cup

cilantro

8

spring onions, cut into 1-inch lengths

¼

cup

sliced shitake mushrooms

1

Tbsp.

soy sauce

2

Tbsp.

water

2

packages wonton or small spring roll wrappers (for a total of 45-50 wrappers)

50

chives for tying wontons (optional - see note above)
Instructions
Preheat the oven to 350 degrees.

Begin by cooking the proteins. Cook the chicken breast in a small amount of olive or vegetable oil over medium heat until just cooked through. Meanwhile, drop the shrimp in a small pot of boiling water and cook just until pink, about 3 minutes.

Combine chicken, shrimp and all ingredients, except wonton wrappers and chives, in a food processor. Pulse until the mixture becomes very fine and looks almost smooth.

Fill each wrapper with a teaspoon of filling. Squeeze the sides of the wrapper tightly together to enclose the filling. If the wrapper will not stay together on its own, dip your fingers in water and dampen the inside of the wrapper before joining it. (Optional: If you would like to tie the bags with chives, encircle the wonton twice with a chive and gently tie the ends together, leaving small pieces hanging off the ends.)

Place the filled wontons on a lightly greased baking sheet or in the holes of a mini muffin tin (the muffin tin is preferable if the wontons are not tied with chives, as this will help to hold them in place). Bake until the tops of the wrappers become crisp and golden brown, 10-12 minutes. Serve immediately with dipping sauce of your choice - the one listed below is a good choice, but equally good with these are pineapple dipping sauce or even peanut dipping sauce.
Notes
Because the filled wontons in this recipe are baked, I have found that it is easiest to cook the chicken and shrimp before preparing the filling. Although cooked in advance, the filling stays moist thanks to the relatively short baking time and the moisture released from the other ingredients in the filling. In the photos above I used two types of wrappers - square wonton wrappers for the batch tied with chives and round spring roll wrappers for those that are not. Both worked quite well, so use either shape of wrapper that you can find. They are beautiful when tied with chives, but it takes some extra time and is not necessary.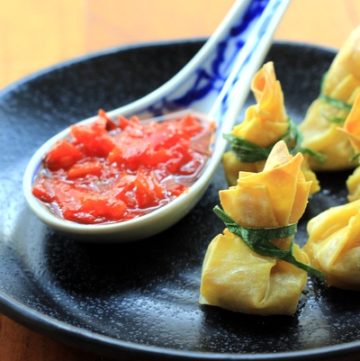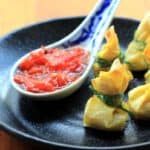 Print Recipe
Simple Sweet and Sour Dipping Sauce for Thai Golden Bags / Thung Tong
Ingredients
½

red pepper (capsicum), seeds removed

⅓

cup

sugar

⅓

cup

white vinegar

2

Tbsp.

water

¼

tsp.

red pepper flakes (more or less, to taste)
Instructions
Pulse the red pepper in a blender or food processor until very finely chopped. Combine peppers and remaining ingredients in a small saucepan. Cook over medium heat until mixture begins to boil. Reduce heat to a simmer and continue cooking until mixture thickens and is reduced, about 10 minutes. Remove from heat and allow to cool before serving. (Dipping sauce can be stored in the refrigerator for a week.)