I like balance. I think that's really the only explanation for the fact that while catching up on blog-reading over the weekend, I found myself falling equally in love with a 230 calorie Grilled Mahi Mahi with Blueberry Mango Salsa and what is surely a gazillion calorie Roasted Blueberry Cupcake with Chocolate Fudge Frosting. Both sound divine and both are equally depressing to observe in the blogosphere seeing as I live in Thailand where there is zero hope of me hitting the blueberry jackpot and somehow finding myself drowning in a bowl of purple goodness.
In recent years, I have picked berries of all sorts in the summer until I was eaten alive by mosquitoes and the handle of the bucket containing them cut a firm line into my palm and all my eyes could see were the dazzling purple, red, blue spots of the berries. I would call it quits, head back to the truck and then, on the way, pass what I was certain had to be the most beautiful, saturated, begging-to-be-picked bush, and would load up with a few more pounds.
I love berries.
As good as I am at sharing, I'm always secretly glad that my husband turns his nose up at blueberries (claiming to only like them baked into things), leaving me blissfully free of competition when it comes to reaching into the colander of rinsed berries to pluck out a handful every time I pass the kitchen. I pick so many blueberries most summers that I can continue my furtive plucking of blueberries out of the freezer until well into January.
Have you had blueberries straight out of the freezer? They're almost as good as candy. (Almost.)
Although I have yet to come across a truly great berry since arriving in Thailand, I knew it was a sign when I saw a friend on the street carrying an enourmous bag of cherries. Skeptical, I tasted one, and was shocked that they were amazing. Sweet and rich, I immediately went out and got myself a bag. These are truly a splurge, and likely imported from quite far away, so I knew I had to get the most out of them.
For sake of moderation, an excuse to bake, and (most importantly) satisfying my summer-fruit-fraught mind, this weekend baking with these cherries was on the agenda.
This baking project was inspired by intense curiosity about another blog find – a shockingly light "cheesecake" recipe from Jenna over at Eat, Live, Run. This was one of those recipes that I had to make myself in order to believe that it was even possible.
When I looked over the recipe list and saw not a lick of butter or cream cheese, I didn't have high hopes in the dessert. But I should not have doubted. Although calling this dessert a cheesecake might set some false expectations, it is nevertheless one of the most spectacular feats of lightened dessert trickery I have ever come across.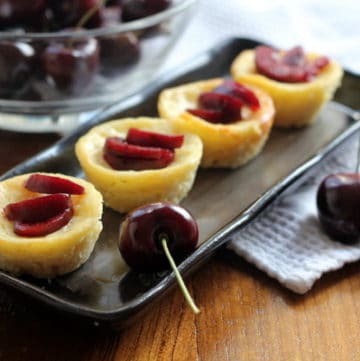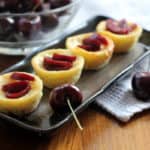 Print Recipe
Greek-Yogurt Cheesecake with Cherries
Servings:
6
(24 mini cheesecakes)
Ingredients
For the Crust:
1

stick cold butter, cut into small chunks

1.5

cups

flour

1/4

tsp

salt

2

Tbsp.

sugar

zest of 1 lemon

1

egg yolk

2

Tbsp.

cold water
For the Cheesecake:
2

cups

whole milk or 2% Greek yogurt (not non-fat)

2/3

cup

sugar

pinch

of salt

2

eggs

2

tsp.

vanilla extract

1

Tbsp.

cornstarch

10

cherries, halved and cut into slices, for topping
Instructions
Preheat oven to 325.

Make the filling. In a blender or food processor, combine the eggs, sugar, yogurt and vanilla. Blend until smooth then add cornstarch and pinch of salt and blend again.

Make the crust. In a large bowl, mix together the flour, sugar, lemon zest and salt. Cut in the butter and blend in with your fingers until mixture resembles cornmeal. Add egg yolk and cold water. Mix until dough comes together to form a shaggy ball (dough may be dry). Cover in plastic wrap and let chill for half an hour.

Assemble the cheesecakes. Lightly grease a mini muffin tin. Remove the dough from the refrigerator and press 1 Tbsp. of dough into the bottom of each space in the muffin tin. Pour the filling over the crust to just below the top of the tin. Tap the muffin tin lightly on the counter and bake until the tops become golden brown, about 20 minutes.

Allow the cheesecakes to cool completely. Remove from the tin and refrigerate until serving. Just before serving, top with cherry slices.