Have you seen this delightful little candy project over at Bakerella? I came across them and had to make them that very night. I couldn't resist.
I have been reading Bakerella for years, and somehow have still never made her famous cake-pops. It's not for lack of interest. I drool over them on a regular basis, but the truth is – I'm scared. Frosting things and putting them on sticks takes so much…patience. And it reminds me far too much of the time I tried to make macarons (such an utter failure that I have still not had the strength to give it another shot). But as I read down the screen about her beautiful gumdrops, I started crossing my fingers that when I reached the actual recipe, it might, in fact, be something that I could accomplish. Something without too much precision…
Something that would survive my shaky hand, and my impatient baking skills.
Something that could succeed despite my tendency to become distracted in the kitchen by the ever-growing mountain of dishes, or the bubbling pot of chickpeas on the other burner…or trashy TV shows that I only watch when my husband is out of town. You know, distracted by life.
My only word of warning about these treats is that they use a shocking amount of sugar. Seems obvious, but I was still stunned as I poured four cups of sugar into the pot as well as another healthy pour to coat them. Mothers out there beware – these will have your kids bouncing off the walls. Fortunately baking projects such as these remind me of one of the greatest things about working in an office – co-workers to eat your sweet concoctions.
Despite the frustrating wait-time between steps and inevitable stickiness, I would make these again in a heartbeat. I used pureed fruit and resisted the bright, peppy temptation of food coloring (except for a dash of green). They came out equally as fun as the original, and every bit as lovely to pop into your mouth.
After a bit of experimentation I had success with adding lemon zest, raspberry purree, blueberry purree, and finely chopped mint (that I strained out of the finished liquid before refrigerating it). Below is what the raspberry looked like just before I started cutting it – nice and firm.
Below is what my experiment with kiwi puree looked like, right out of the overnight chill in the fridge….sort of like that slime from Ghostbusters.
Lesson here – these gumdrops hold up well to experimentation. Do not, however try to make kiwi-flavored gumdrops.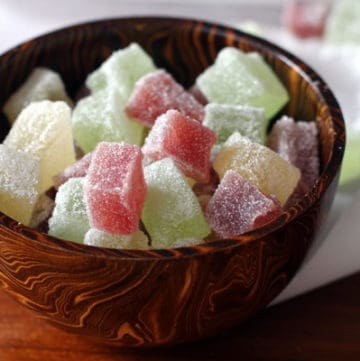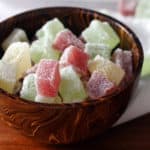 Print Recipe
Homemade Gumdrops
Ingredients
3

Tbsp.

raspberry puree (pushed through a fine strainer to remove seeds)

3

Tbsp.

blueberry puree (pushed through a fine strainer to remove seeds and skins)

4

Tbsp

gelatin (6 envelopes)

1

cup

cold water

1 ½

cups

boiling water

4

cups

sugar

extra sugar, for coating (I used about a cup)
Instructions
Grease two pans that are roughly 6×5 inches with Pam or mildly flavored oil (like sunflower). Place two large heat-proof bowls on the counter. Place the raspberry puree in one and the blueberry puree in the other.

In a large pot, soften gelatin in cold water for five minutes. Stir in boiling water until gelatin dissolves. Add sugar and bring mixture to a boil over medium-high heat. Boil for 25 minutes, stirring constantly to prevent it from bubbling over.Pour half the hot gelatin mixture over the fruit puree in each of the prepared bowls. Working quickly, stir to combine. Pour each batch into one of the greased pans.

Refrigerate overnight (and up to a couple days).

Pour extra sugar onto a baking sheet. Using a knife to release the edges, gently remove the firm gelatin and place in the sugar, turning it to coat both sides. Transfer the gelatin to a cutting board and cut it into ¾ inch cubes. (Note: Coating both sides with sugar was the most effective way I found to minimize the stickiness of the gelatin.) After they are cut, toss the pieces back into the sugar, tossing to coat. Transfer coated gumdrops to parchment paper.

Leave on the counter at room temperature for two days to crystalize.
Notes
Adapted from Bakerella. As you can see above, I went pretty free form with these. I had great success with dividing the recipe into several different containers and adding a couple tablespoons of fruit puree to each. The came out with subtile fruit flavor and bright color. The following is what I did, dividing the recipe in half and using half raspberry and half blueberry puree. I also did a second batch in which I divided the batch in half and mixed the zest of one lemon and a tablespoon of lemon juice into one half and mint and a tiny bit of green food coloring into the other. I had success with all of these, just NOT with kiwi puree.