I had never thought to do a post about this dinner because it is one of those things that I throw together without a recipe when I'm not feeling particularly inspired. However, earlier this week I was whipping up our Easy Chicken Pitas for dinner, and thought that it is too delicious (and we eat it far to much) not to share.
The ingredients fresh and colorful, take just a few minutes to pull together and produce what is, quite possibly, the dinner we have been eating the most of late.
The truly lovely thing about this dinner is that it can be summed up in these three steps:
Step 1: Mix these things together (parsley, tomatoes, lemon juice, a bit of mint, olive oil, and a cooked grain like quinoa).
Step 2: Mix these things together (Greek yogurt, cucumber, garlic, lemon juice).
Step 3: Grill or saute up some sliced chicken breast seasoned generously with salt and pepper.
There are tons of ways to vary this dinner, but in our house we tend to keep it that easy. In fact, despite all my time-consuming undertakings in the kitchen, I think this may be Frank's favorite dinner.
Sometimes the simplest things are the best.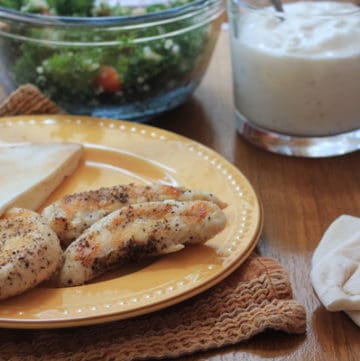 Print Recipe
123 Easy Chicken Pitas
Servings:
2
(easily doubled)
Ingredients
For the Tabouleh:
a generous handful of parsley, finely chopped

about half a cup of bulghur cooked or pre-soaked according to package directions (I prefer to use cooked quinoa)

a handful of cherry tomatoes, sliced in half

juice from a half of a lemon

a splash of olive oil
For the Tzatziki:
1

medium container of greek yogurt (about 2 cups)

1

half a large cucumber, peeled and finely chopped

1

clove

garlic, minced

juice from a half of a lemon

2

large chicken breasts, thinly sliced

salt and pepper

fresh pita bread, for serving
Instructions
Make the Tabouleh. Combine the tabouleh ingredients in a small bowl, seasoning with salt and pepper to taste.

Make the Tzatiki. Combine the tzatziki ingredients in a small bowl, seasoning with salt and pepper to taste.

Optional - refrigerate the tabouleh and tzatiki for up to 24 hours.

Cook the Chicken. Grill or saute the slices of chicken until cooked through, seasoning each side generously with salt and pepper.

Serve immediately by topping a piece of pita bread with several slices of chicken, a helping of tabouleh and several spoonfuls of tzatiki.
Notes
The flavors of the tabouleh and tzatiki will develop in the refrigerator, so this is a great recipe to make in advance. Both the toppings can be made 24 hours in advance and stored in the fridge. In fact, they will be even better after a bit of a chill.