Hardly a week goes by without roasted vegetables in this house. I sometimes think it might be difficult for anyone to love roasted vegetables quite as much as this girl (*I raise my hand*). This week I came across a video about roasting an entire farmers market haul of vegetables in one fell swoop (amazing, right?) and can decidedly say that there are plenty of others of you out there who love roasted vegetables just as much as I do.
I am fortunate to have an oven, however small it may be, in our apartment in Thailand. It is somewhat rare to have an apartment with an oven in Thailand. In this hot country, the style of cooking is fast, over high heat on the stove. Before we moved here, I recall saying "eh, it's okay if there's no oven – I'll adapt". And certainly, I would have....if forced. But, despite my ever-growing love of wok-cooking, I would have been a bit sad without our little oven and its vegetable-roasting abilities.
In my opinion, most vegetables rarely need more than a bit of olive oil and salt/pepper love before a good roast. Such is the case with my standard, weeknight roasted cauliflower. Sometimes though, we like to fancy things up a bit, and I use a roasted vegetable as a base for something that is so much greater than the sum of its parts. This recipe below - it is absolutely that. This easy side dish is greater than the sum of its parts.
This very well may be the best cauliflower I have ever had. And that's sayin' something.
_____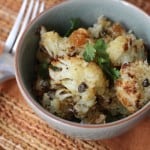 Print Recipe
Crispy Cauliflower with Capers, Raisins and Breadcrumbs
Ingredients
1

large head of cauliflower (2 pounds), cut into 2″ florets

3

tablespoons

olive oil, divided

Kosher salt and freshly ground black pepper

3

garlic cloves, thinly sliced

2

tablespoons

salt-packed capers, soaked, rinsed, patted dry

¾

cup

fresh coarse breadcrumbs or Panko breadcrumbs

½

cup

low-salt chicken broth

1

teaspoon

anchovy paste (optional – I left this out)

⅓

cup

golden raisins

1

tablespoon

white wine vinegar

2

tablespoons

chopped flat-leaf parsley
Instructions
Preheat oven to 425°F. Toss cauliflower florets with 2 tablespoons olive oil in a large bowl; season mixture with salt and pepper. Spread cauliflower out on a large rimmed baking sheet. Roast, tossing occasionally, until cauliflower is golden and crispy, about 45 minutes.

Meanwhile, heat remaining 1 tablespoon olive oil in a small saucepan over medium- low heat. Add garlic and cook, stirring occasionally, until just golden, 5-6 minutes. Add capers and cook until they start to pop, about 3 minutes longer. Add breadcrumbs and toss to coat. Cook, stirring often, until breadcrumbs are golden, 2-3 minutes; transfer breadcrumb mixture to a plate and set aside.

Add chicken broth and anchovy paste (if using) to same saucepan. Bring to a boil. Add golden raisins and white wine vinegar and cook until almost all liquid is absorbed, about 5 minutes. Remove from heat and set aside.

Transfer warm cauliflower to a serving bowl. Scatter raisin mixture over, then toss to distribute evenly. Season to taste with salt and pepper. Sprinkle cauliflower with breadcrumb mixture and parsley. Serve immediately